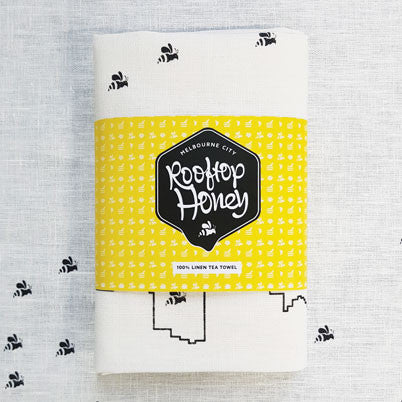 Linen Tea Towel - Skyline
$24.00
It's not always about bees and honey with us: One of us is pretty messy and the other is forever cleaning up after them. Now you can dry up your own spills with this fancy towel too! Jokes aside, this has been made locally using 100% pure linen which supports other like-minded businesses, as well as our vision of bringing bees back to the CBD.
You'll find your linen tea towel quite stiff at first. It will soften after a few washes, and it may shrink a little. Linen's absorbency improves over time. Best of all, it doesn't leave fluff on your glassware.
For best results, wash your tea towel in a cool to warm cycle on your machine with other similar coloured items. Pull it back in to shape before hanging it to dry. Iron on the reverse side of the print with a warm iron. Do not tumble dry or dry clean. 
Designed and Printed in Melbourne
100% Pure Linen
Dimensions (mm): 640 x 440