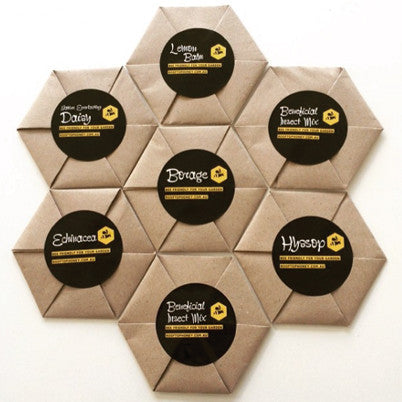 Seeds - Bee Friendly - Beneficial Insect Mix (Flowers, Herbs, Annuals & Perennials)
$3.50
It isn't difficult to make your backyard, vegetable garden or even patio space a haven for beneficial bees. You'll be helping these important insects, as well as bringing a little nature to your back door. When you attract bees to your backyard you also improve the bees' quality of life you by planting a variety of plants bees just love. Think about it in terms of food, to have a strong and healthy immune system, we need variety in our diets - so do bees! 
BENEFICIAL INSECT MIX
Colourful mix of flowers, herbs, annuals & perennials to attract insects like lace wings, lady bugs, hoverflies & bees. Promotes natural bio diversity.
Includes:Alyssum, Basil, Borage, Buckwheat, Centaurea, Coriander, Cosmos, Dill, Gypsophila, Lucerne, Marigolds, Radish, Sweet William, Californian Poppy, Candytuft, Clover, Fennel, Lacy Phacelia, Nemophila, Rudbeckia
Sow in Spring and Summer
Sow seed in warm conditions, the best germination soil temperature is 23 - 30°C
Sow into a seed-raising tray or direct & cover seed lightly to 5 mm deep
Plant the seedlings out into a position in full sun with moderately rich, well-drained soil
(40+ seeds approx - each pack is hand folded)
Seeds are sourced from old traditional open pollinated, non-hybrid varieties & are not chemically treated or genetically engineered.